Q: Is it safe to order online at your site?
A: MyCommerce.com (who is the e-commerce partner for EasiestSoft) has an order process that is protected via a secure connection so that the data sent to the recipient can only be read by the recipient. Important information such as credit card numbers, addresses, etc. is sent to the recipient securely via the InternetMyCommerce.com is part of the Digital River NASDAQ: DRIV family of companies — a group of e-commerce and e-marketing experts committed to providing companies big and small with everything they need to successfully build, manage and grow profitable online businesses on a worldwide basis
Q: If I purchase your software, can I upgrade it for free in the future?
A: You can always get MAJOR and MINOR updated version of the software for free. You can get the updated version from our website https://easiestsoft.com. Your original register name/code is still valid for the updated version
Q: I have purchased your program and installed it on my computer. Now I'm ready to transfer it onto my new computer, what do I need to do?
A: One license can only be used for one computer, you can uninstall our product from your old computer, then install it on a new computer without buying it over again, you don't need to let us know your intention first before uninstalling it from your old computer. You need to buy a new license from EasiestSoft homePage if you want to keep both copies
Q: How to register the product?
A: You'd better copy and paste the register name/code to the product to avoid the typo
Q: When I tried to register EasiestSoft for Windows, why it would not accept the registration name and code?
A: This is because the software does not have permission to read or save registration information in your computerThe solution is run it as administrator for Windows Products to register it:
Disable anti-virus, then Right-click on the EasiestSoft Windows product desktop icon, select "Run as administrator" for Windows 10, Win 8, Win7 and Vista, select "Run as...", "Administrator" for Windows XP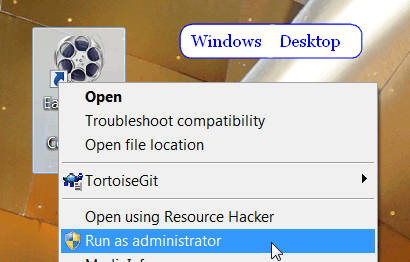 Q: When I try to edit a video with non-English characters in the file path, the program always closes, why?
A: You can try to change the file title to have no non-English characters
Q: If I want a CD-ROM of the software, what should I do?
A: When you order our product, you can Add a BackUp CD of your Order. You need to pay the extra fee for each CD-ROM. MyCommerce staff will make and ship the CD for you
Q: How to track the Backup CD?
A: We show that the backup CD should arrive within 3-4 weeks from the order completion date. Unfortunately, we do not have tracking information available for the backup CD. We apologize for the inconvenience
Q: I'm Trying to install EasiestSoft Windows product and I got the following message: IPersistFile:: Save Failed; code 0x00000005 Access is deniedTrying to Run as Administrator same thing
A: This usually suggests there is a file still in use at that memory area, and you are not allowed to overwrite it. You must install our Windows product as an administrator and it is possible now that you may need to reboot the computer before you can try again to install as administrator
Q: How long will it take to get your supporting response?
A: We promise to answer you within 24 hours. But in most cases, you'll get our response in a few hours
Q: I get a new hard disk, what should I do?
A: No matter you have changed your hard disk, you can always use your original registration information to register our software which you have purchased on one computer
Q: How do I upgrade my EasiestSoft product?
A: Launch EasiestSoft product, click Guide Or homePage on top-right, then click Download on the page to download the latest version, you should close launched EasiestSoft product before installing the latest version!
Q: How to solve the "Stopped working" problem on Windows
A:
Sign in your computer as an administrator
Make sure Output Folder Exists and Output Disk has enough space
Right-click on EasiestSoft Desktop icon, select Run as administrator
Send us short sample files if it still has the problem, we'll check them
Q: How do I complete my order with Purchase Order payment option?
A: Purchase Order detail is provided directly to you when you place your order online
Q: How to Tweak the Settings for EasiestSoft in Mac Mountain Lion or Higher
A: Your security settings may prevent you from downloading EasiestSoft directly from the Internet. In Mac OS X Mountain Lion or higher, these may be set so that they only allow downloads from the Mac App Store: To change your security settings to allow downloads from places outside of the Mac App Store:
In the menu bar, click the Apple icon and select System Preferences....
In the Personal section, click Security & Privacy.
Select the General tab 4. Under Allow applications downloaded from:, check Anywhere. Here is a video guide about changing these settings: https://www.youtube.com/watch?v=wHM56l33DjQ You should now be able to download the latest version of EasiestSoft for Mac OS X
Q: How to report a bug?
A: When sending a support request you should tell us: 1. Specify your Order ID, then we know you are our customer
2. Specify Product name and version you are using
3. Specify your operating system (Windows? Mac?) and version
4. Your register name and register code
5. Steps to reproduce the bug in our computer Send your support requests, with the above information, to:

Q: What's your refund policy?
A: You can find certain conditions to apply for a refund here