Convert DVD to Video
Convert DVD to Audio
Home DVD to Devices formats (iPhone, iPad, iPod...)
Cut Video from DVD
Crop DVD Video
Add Watermark to DVD Video
Add Subtitle to DVD Video
Select target subtitle and audio track
Preview and capture pictures
Windows 11, 10, 7 PC Compatible
Easiest-to-use Photo to Video Converting Software for Beginners
100% Clean, no Spyware, Adware or Viruses
The registration code will be sent immediately after your purchase
One license can only be used for one computer, you can uninstall our product from your old computer, then install it on a new computer without buying it over again, you don't need to let us know your intention first before uninstalling it from your old computer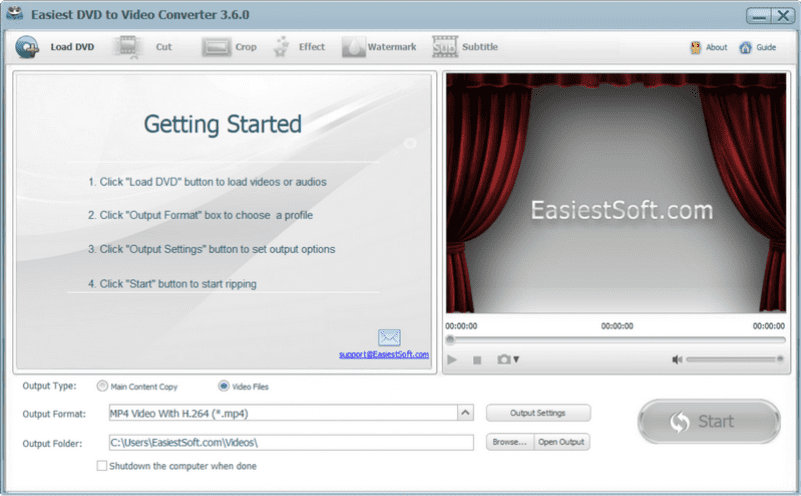 First, Insert DVD to DVD drive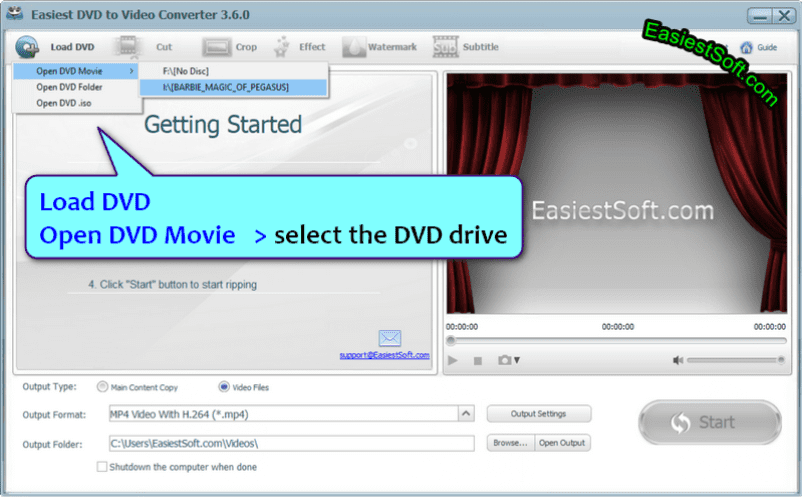 Click the Load DVD button
There are three options available:
Open DVD movie from the DVD drive
Open DVD folder from hard disk VIDEO_TS directory
Open DVD .iso image file from hard disk
Here we choose Open DVD movie and select the DVD movie drive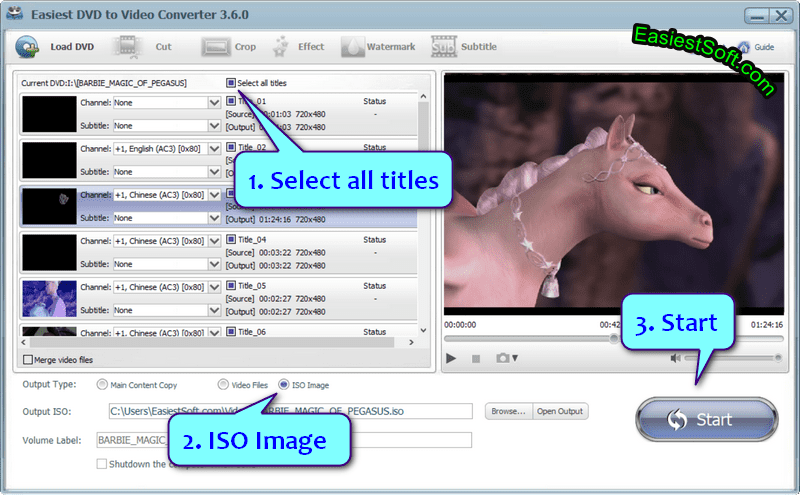 Check option Select all titles (optional)
Output Type: ISO Image
Start
Click the Open Output button to find the result .iso image when done
First, install VLC media player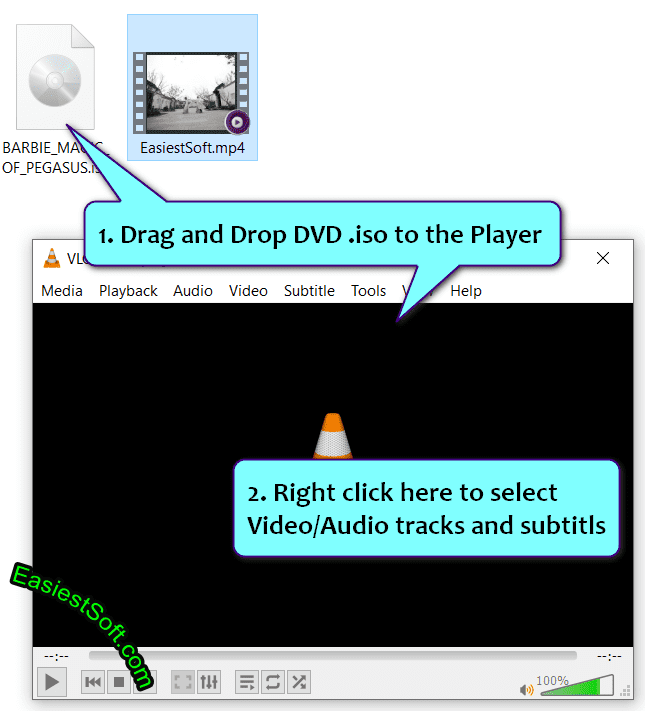 Drag and drop DVD .iso movie to VLC Media Player
You can click on the screen in the player to play the DVD movie and right-click on the screen to select Video/audio tracks and subtitles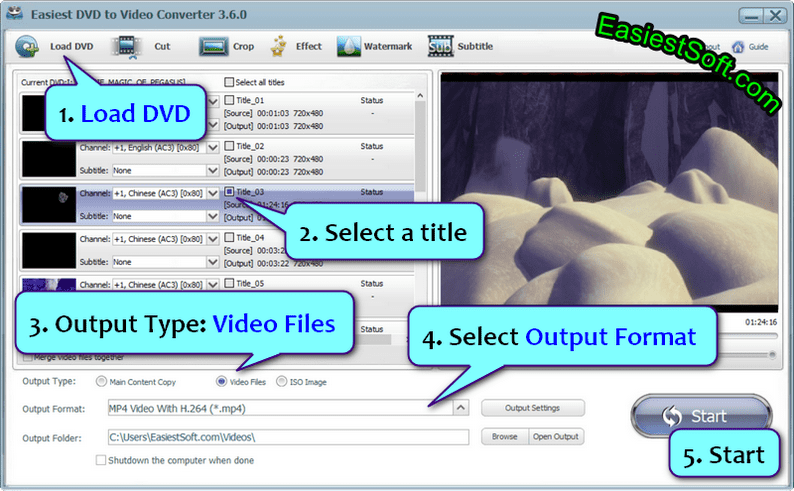 Click Load DVD button to load DVD movie from disc or .iso image...

Check a DVD video title

Output Type: Video Files

Click the Output Format box to select a format, here I selected MP4 Video with H2.64 from the Common Video list

Start

Open Output
Upload the .mp4 video to a server folder, e.g. v/easiestsoft.mp4
Create an HTML file with the following code:
<!doctype html>
    <video controls>
        <source src="v/easiestsoft.mp4 type=video/mp4>Your browser does not support the video tag
    </video>
</html>

Upload the HTML file to the server, anyone can play the DVD video on the network immediately. Easiest Photo to Video Converter for Windows 10 is an example of embedding .mp4 (H.264) video in a web page
Sometimes uploading large DVD videos to the server is not a good idea, and to fix this, we can cut clips from the DVD movie using Easiest DVD to Video Converter for Windows 10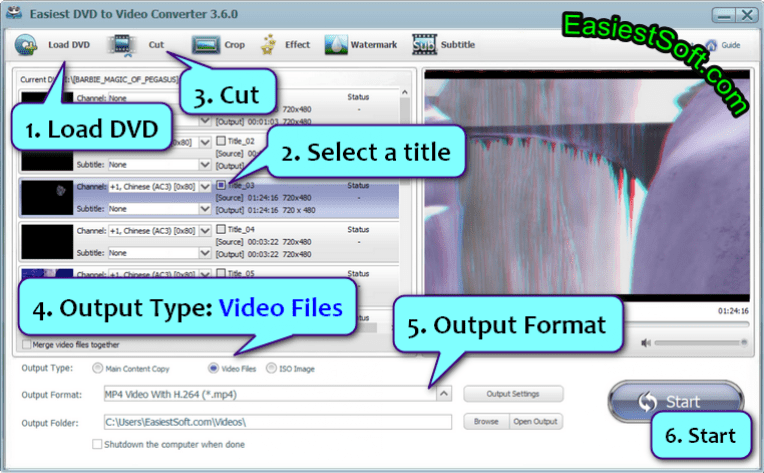 Load DVD

Flag a DVD title

Click the Cut button and set a video clip

Setup Output Type: Video Files

select Output Format from the list

Start

Open Output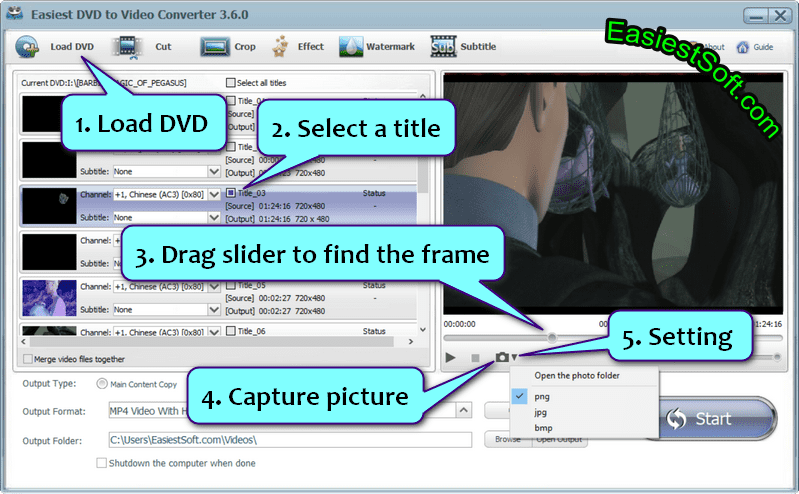 Load DVD
Choose a DVD title
Drag the slider to find a picture
Tap the camera icon to take a picture
Click the triangle icon to set picture format (.png, .jpg or .bmp) or Open the photo folder
DVD disc from DVD drive
DVD folder from hard disk VIDEO_TS folder
DVD ISO from hard disk
DVD to Video
DVD to Audio
DVD to MPG (Main Content Copy)
DVD to ISO for Play DVD on Computer without DVD disc
3GP, ASF, AMV, AVI, FLV, VOB, MKV, MOV, MP4, MPG, MTV, RMVB, SWF, TS, WMV
AAC, AC3, AIFF, AMR, AU, FlAC, M4A, M4B, M4R, MKA, MP2, MP3, OGG, RA, VOC, WAV, WMA
Q: The software is freezing up when getting disc info
A: Please Waiting a few minutes when getting disc info, checking your DVD disc, DVD Drive, or using another DVD disc
Q: When I tried to register EasiestSoft for Windows, why it would not accept the registration name and code?
A: Please try to register it by opening the program as an Administrator